Numbering System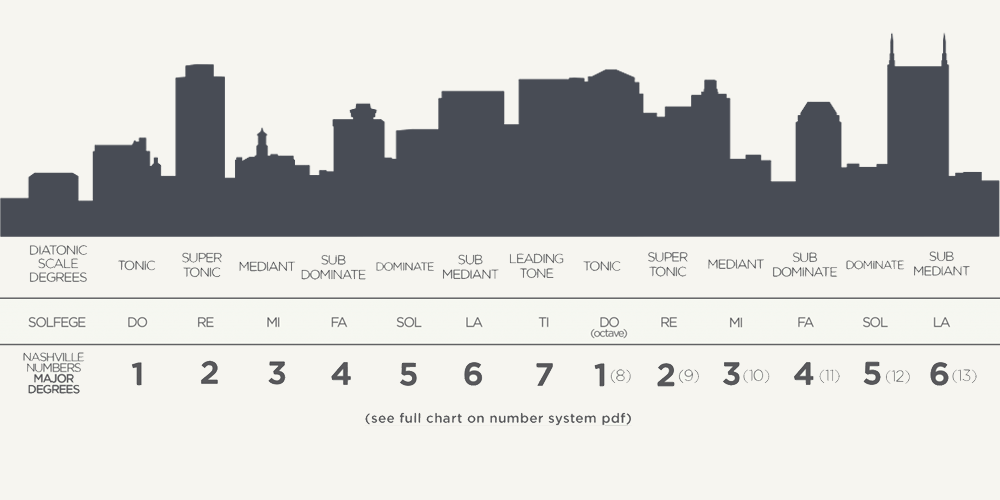 Also know as the Nashville Numbering System.
This is a method of transcribing music by denoting the scale degree on which a chord is built. It was developed by Neal Matthews, Jr. in the late 1950s as a simplified system for The Jordanaires to use in the studio and further developed by Charlie McCoy. Most studio and touring musicians will use this method because of the speed at which they can work. This should not encourage players to not read or understand music theroy by any menas. Rather the Numbering System is a method to help the players connect quickly by transcibing on the fly.
It resembles the Roman numeral and figured bass systems traditionally used to transcribe a chord progression since as early as the 1700s. In Western Music there are 12 notes total starting with "A" and going to "G#" -  between every pair of natural notes there is a sharp or a flat - except between "B" and "C" & "E" and "F". For every sharp (#) there is a flat (b) that represents the same note/chord. Sharp means it's higher than the note/chord, flat means it's lower.
To sharp any note/chord (ex: A to A#) move the note/chord position up a half step - (asend) To flat any note/chord (ex: B to Bb) move the note/chord poistion down a half step - (desend)